Livetarget lands "Best of show" at ICAST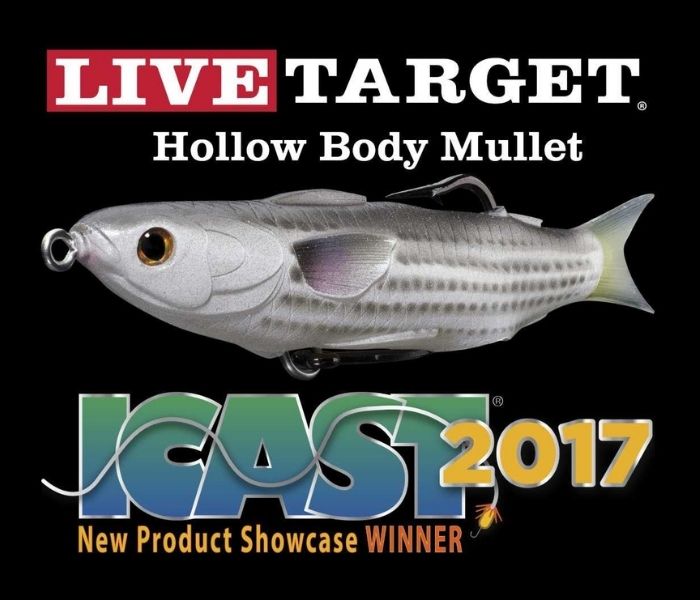 The fishing industry trade show (ICAST) recently held its annual trade show and convention where a significant part of the interest each year is on the introduction and judging of new products.  The ICAST "Best of Show" Awards organized by Fishing Tackle Retailer becomes one of the ways consumers learn of the most unique and innovative lures being introduced to anglers worldwide.  Buyers and media representatives judge the tackle and fishing related products based on their level of innovation, execution, workmanship and practicality.  LIVETARGET is proud to announce that two of the Company's products received high honors at the 2017 show: the Hollow Body Mullet won "Best of Show" distinction in the Saltwater Soft Lure category, and the BaitBall Spinner Rig was "First Runner-Up" in the Freshwater Soft Lure voting.  The 2017 Mullet "Best of Show" award becomes LIVETARGET's sixth distinction as a "Best of Show" winner during the Company's ten years in business.
The Hollow Body Mullet takes the award winning design elements of LIVETARGET's experience in creating hollow body lures for freshwater, and bringing that innovation to the saltwater market.  Now saltwater anglers can cast a snag-resistant lure back into the deepest, darkest cover.  Novice anglers can walk the lure with ease, and seasoned anglers can skip and cast to places where even live bait is hard to utilize.  This topwater lure features an attractive walking action, a strong corrosion resistant custom single hook, and balanced weighting for superior castability.  Be it mangroves, docks, pilings, grass lines or open water; the Hollow Body Mullet is going to be both fun and productive to fish.  Available in three sizes: 3 ¾" ⅜ oz., 4 ½" ½ oz., and 5 ⅜" ⅝ oz. each with three color patterns of Natural/Black #721, Natural Brown #723, and Silver #716.  MSRP $13.49 to $14.49
Example: Hollow Body Mullet, 4 ½" Natural / Black (721)
Vic Cook, saltwater lure designer at LIVETARGET commented on the Hollow Body Mullet award: "Our Product Development team really worked hard to bring LIVETARGET's history and expertise with hollow body lures to this Mullet design.  We innovated with anatomy, color details, and especially action and hook design.  Saltwater fish require a robust and strong hook configuration, and we used that as a key goal in our design development. LIVETARGET now has six lure designs to emulate mullet baitfish: from topwater to swimbaits to this hollow body lure.  I don't think any lure company is doing more to outfit the inshore saltwater angler with unique lures to trick a multi-species bite and with a variety of techniques.  We are much honored to have the Hollow Body Mullet earn the Best of Show status, and look forward to seeing anglers have the same great results on the water."
The BaitBall Spinner Rig was voted "Runner Up" in the Freshwater Soft Lure category by virtue of the radical design that incorporates many unique design elements.  The multi-wire lure incorporates "teaser" fish on three arms, a single spin blade for flash in the center, and a specially designed "target" fish armed with a single sturdy black nickel hook.  Another unique design element enables anglers to interchange both the "teaser" fish and the "target" fish onto the frame via a unique Interchange System.  Anglers are able to easily replace or change colors with little effort.
The action of the BaitBall Spinner Rig is intended to mimic a small cluster of fleeing baitfish.  The combined action of the teaser bodies' flicker, the flash of the spinner blade, the roll of the entire rig, and the tuned vibration of the target fish make this truly a unique combination of fish attracting actions.   The "teaser" fish are positioned without hooks and the strategic wire-arm placement creates unmatched ability to retrieve through heavy hard cover such as brush piles, deep timber, docks, blow-downs, rip-rap, etc.  With frame sizes from ¼ ounce up to ¾ ounce, the Spinner Rig casts easily and can be fished for extended periods with minimal effort.
Baitball Spinner Rigs will be sold in three frame sizes (small, medium, large), with two weight options for each frame proportionally sized.  All eight colors will be offered in each frame and weight.
The Interchange System was created to allow anglers the option to quickly change the color combinations based on water color conditions. Additionally, the Interchange System offers a cost effective way for anglers to refresh their lure as the PVC bodies become fatigued from fish catches and use.  Interchange System components will be delivered in packages of three Teaser Fish and two Target Fish per package, and replacements will be sold alongside Spinner Rigs at retailers.
Grant Koppers, founder and President of LIVETARGET commented on the award wins for both entries: "Our design efforts are intense and ongoing.  We will never rest.  We have an outstanding team, and our results are a team effort.  It is encouraging to see the voters respond to our earnestness in creating new tools for anglers, and to acknowledge the LIVETARGET attention to detail.  We want to challenge the angler's competitive spirit: to win a tournament, to brag at the dock, to simply catch more fish; we want to be the company that provides that competitive edge.  Fishermen are competitive by nature, we want to be that trusted brand."
The BaitBall Spinner Rig will become available to retailers in Q4 2017, and will be retail packaged as a single lure with a MSRP of $13.49 – $15.49 based on model size.  Interchange System replacement units will have a MSRP of $7.99 for all sizes and combinations.
All products will become available to retailers in Q4 2017, and will be retail packaged as a single lure.
Additional details on these products including video content on all the LIVETARGET lure products can be found at:  www.livetargetlures.com
For more baits like this one, subscribe to our monthly fishing subscription box. You're going to love it!