Match the hatch with the baitball series magnum crank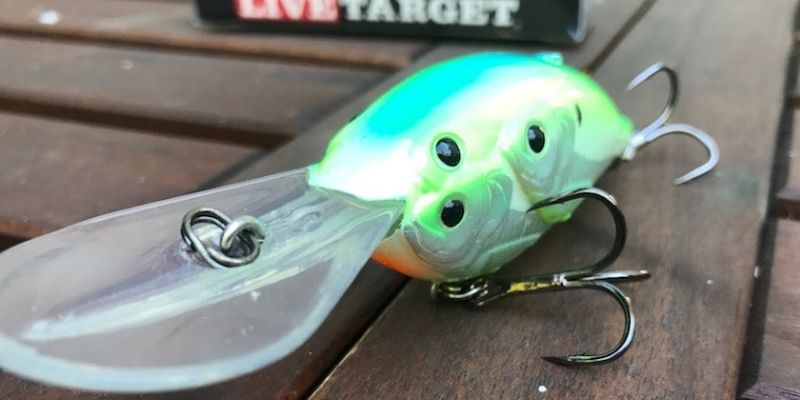 Large crankbaits are smokin' hot right now in the industry, as anglers have taken the "big baits, big fish" philosophy and applied it to their diving lures. LIVETARGET takes a more holistic approach with their popular BaitBall Series that mimics a small school of baitfish and quite literally matches the hatch, with ultra-realistic designs that look just like what bass eat. Without a doubt, LIVETARGET makes the most natural looking hard baits in the industry and their Threadfin Shad Magnum Crankbait is no exception.
We're going to break this down real quickly into two advantages and two tips to get you started throwing this unique deep-diving crankbait:
ADVANTAGES
Preying on Vibration – Bass sense their forage in multiple different ways and the more your lure can hone in on those senses, the better chance you have of getting them to attack your bait. The LIVETARGET Magnum Crank does this by attracting through sound or the bass' sensation of vibration through their lateral lines. With a strong, one-knocker rattle, the bait is actually calling fish to it as it's bumping and grinding on the bottom.
Preying on Sight – Once you get their attention with the enticing sound and erratic action, the meticulously designed BaitBall Series Crankbait does the rest of the work. It presents the bass with the visual look of the minnows or shad that they are already feasting on. When you live on instinct alone like a bass does, the more a lure can replicate something from your natural environment, the more interest you'll have in eating it.
TIPS
Know the Right Gear – This is not your daddy's crankbait! These big magnum baits range from 5/8 oz to a super heavy 1 3/8 oz. This allows for super-long casts to get that bait as deep as it can get. You have to have the right rod and reel setup to properly present this bait. It requires a stout 7'6 – 8'0 plus baitcasting rod paired with 12-17 pound test and the right parabolic bend to not rip the hooks out of the mouth of the fish. Most manufacturers have big crankbait specific rods to maximize results and not wear you down in the process, like the Dobyns Champion 805 or 806 big cranking rods.
Know the Right Presentation – Crankbaits are highly effective, but you have to know how to use them correctly. If you're throwing a 12 foot diving bait over 30 feet of water, you're probably going to go home depressed. So line up in an area where you can toss that 12 foot diver into 6 feet of water and grind it on the bottom, bringing it out to the 12 foot zone or drop-off. It's really important to keep bottom contact for as much of the cast as possible. Bass love to eat crankbaits that are bouncing off of structure, like stumps, rocks, dock pilings and anything else that will cause a deflection.