In the box – Big bite baits battle bug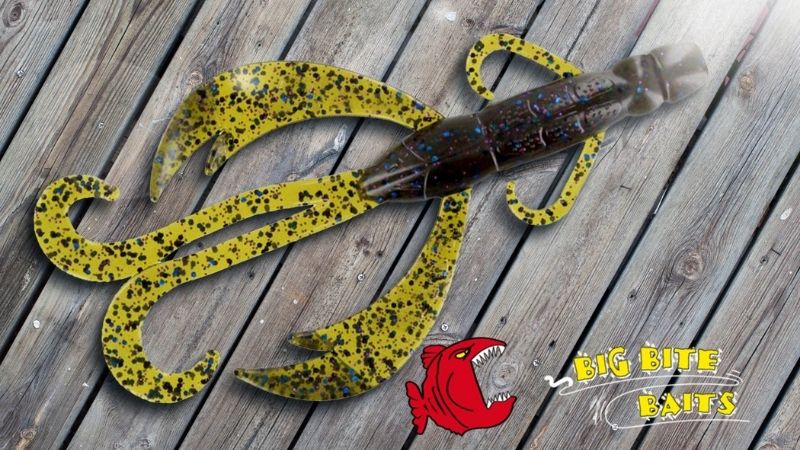 Product Description
The brainchild of Bassmaster Elite Series angler, Mike McClelland, the Big Bite Baits Mike McClelland Battle Bug provides a one-of-a-kind crawfish imitation that works with a wide-range of techniques. Built with two large claws, antennae, and two J-shaped appendages. The Battle Bug works well with a jig, even at rest, and comes to life on a flipping set-up as well. Offered in a number of lifelike colors, the Mike McClelland Battle Bug delivers a unique craw presentation that is made to do battle with big fish.
Pro Tips
Creature style soft plastics, especially those that are designed like the Big Bite Baits Battle Bug, are perfect for multiple different types of presentations. When you're wanting a shallow flipping bait, with a bulky profile and lots of moving parts, the Battle Bug is an excellent choice. It's also something that can be used at the end of a Carolina Rig, as a jig trailer or even as a unique option for a shaky head. A great alternative to typical beaver or craw style baits, the Battle Bug gives tons of action that triggers intense bites.
Drew's Notes
"This is one of my favorite plastics for flipping weed cover, brush piles, trees and docks. I use a pretty stout offset worm hook and change my bullet weight to fit the type of cover and fall rate that is appropriate. With a Texas-rig, make sure that you drop your rod tip briefly before setting the hook to make sure the bass really has the bait in his mouth. A lot of missed fish are from pulling the trigger too soon."
Recommended Gear
Daiwa – 7'0 – 7'4 (Med/Med-Heavy Casting)
Kast King – 6.3:1 Baitcaster
Seaguar – 10-15 Lb Seaguar Fluorocarbon
Water Depth
Bottom
Location
All