In the box – Knockout bait co "Suckerpunch"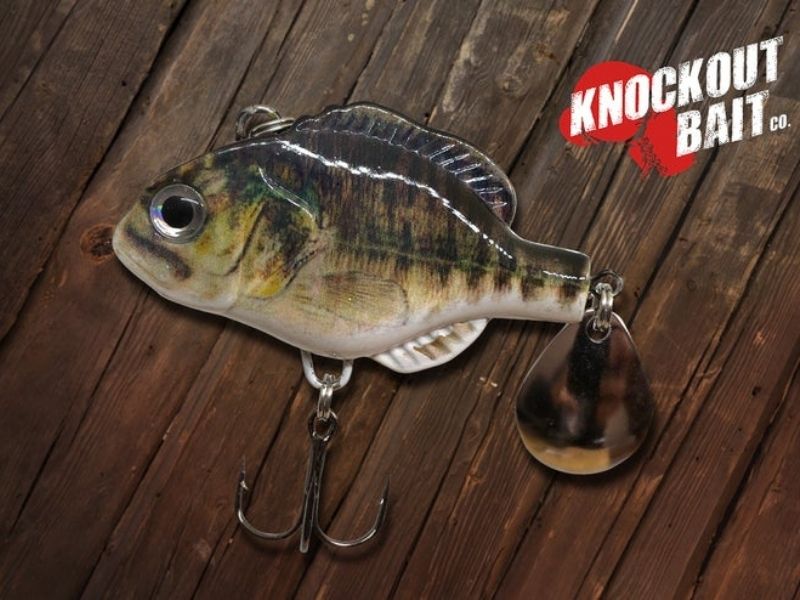 Product Description
Big fish won't go down without a fight, so you want the Knockout Bait Suckerpunch in your corner. This is a heavy weight bait that is built to get down to the bottom fast and attract big bites. Giving off tight vibration and a ton of flash from a blade fixed at the back of the bait, the Suckerpunch is all about getting attention. Built to probe the depths, it is ideal for those finicky fish that are stuck to the bottom and need something to make them react.
Pro Tips
This is unlike any bait you've ever fished, so make sure you have the right gear and use the proper technique. This is not a "cast and wind" bait, in fact, it will not run true if you just reel it back in like a lipless crankbait. With the Knockout Bait Suckerpunch, you need to use a lift and drop retrieve in order for the bait to have the right action. More like a blade bait or spoon. You can fish it vertical, but you can also cast it out and use short hops, popping your rod tip upward and then letting it fall back down.
Drew's Notes
I had the opportunity to try out the Suckerpunch recently and it's awesome! It casts a mile, so you can cover a lot of water. You can rip it hard up off the bottom and then let it flutter back down, with the blade giving off a ton of flash. You can even "dead stick" the bait on the bottom, letting it sit. Believe it or not, even with hard baits, bass will come over and nose down on it. The next pop and they slam it!
Recommended Gear
Daiwa – 7'0 – 7'4 (Medium/Heavy Casting)
Kast King – 6.3:1 Baitcaster
Seaguar – 15-17 Lb Seaguar Fluorocarbon
Water Depth
Bottom
Location
Rocks
Rip Rap
Points
Ledges
Humps